Bob Dylan w/ Mark Knopfler - MTS Centre, Oct., 5, 2012
Not a huge crowd. One of my friends who works at the MTS Centre figured attendance was around 4200. The Sun said is was around 6500, the Free Press, 5500.
So Mark Knopfler was in the hugely successful 70s and 80s group Dire Straits. At one time, they were the biggest selling group in terms of the new format known as the Compact Disc. Knopfler was backed my a 7-piece band and they wouldn't have been out of place at the Winnipeg Folk Festival. It was a decidedly a twangy affair, rather than pop/rock. When they were jamming, it was outstanding. The level of musicianship was high quality. Like Clapton, Knopfler doesn't strut around and play a showy guitar. He economizes in his playing, not wasting notes for showmanship or applause. But when he plays, it's precise and distinctive. You know it's him. Ditto for his vocals, which were all over rock radio for decades as Dire Straits made themselves heard. The type of songwriting he offers now is the kind where you either have to really pay attention to the words to see that he's telling stories, or you just have to let the exquisite sound wash all over you.
Despite ending Dire Straits with some of their most commercial sounding albums, as a solo artist, he's opted more for quality songs laid back songs that require you to invest more of your attention than easier to digest all out rockers. This was my second time seeing Knopfler, the first being at the Concert Hall a few years ago, so I knew more or less what to expect. Almost as if he was cutting the umbilical cord and sending a clear message to the fans that he's moved on to a different phase in his musical career, he did not play his all-time most popular song, The "Sultans of Swing," from 1978's debut album,
Dire Straits
. Which went on to sell 6 million copies. He did play one Dire Straits song, "So Far Away," from 1985's
Brothers In Arms
. That song earned a lot of airplay and the audience definitely perked up when it was performed. For most people, it was the only song they recognized.
Bob Dylan has been at a point in his career for a while now, where he likes to change things up when performing live, regardless of the bad press that he's received for doing so. And for singing like only he can sing, and not caring too much that many people think he should have packed in a long time ago when his vocals really became the topic of much derision. He's not going to play his greatest hits like so many groups who are still touring way past their prime and milking the past for all they can. Doing so would likely be downright boring to him. Nope, he plays mostly lesser-known songs, some material from the last few albums, and maybe handful of old favorites, thrown in to keep the casual fans who make up a huge part of the audience, somewhat content.
Still, like the last time he played at the MTS Centre, fans left early and complained about his vocals and song selection. From where I was sitting, on the floor and fairly close to the stage, the sound was actually very good. No complaints from me about how it sounded. As for his vocals, I mostly gave up on trying to make out what his was singing, although I did catch a few words here and there. But, I knew that this would be the case. On the plus side, I thought his backing band was strong. Charlie Sexton was once again on lead guitar. He was a brief pop sensation in the 80s, before resorting back to his original calling as a rootsy, bluesy, folksy performer, ideal to be in Bob Dylan's band.
I can't recall seeing Dylan grin so much in concert. He was clearly having a good time. The first time I saw him, he played a lot of guitar and the bulk of the solos. That was back at the old Arena back in August, 2002. In Nov., 2008, he played mostly on keyboards as he had an injury that prevented him from playing guitar. This was at the MTS Centre. At that show, his vocals were definitely at a low point. At last night's show, he started off on keyboards, then played some guitar but spent most of the evening on piano, which sounded fine to me. He's not a virtuoso pianist, so I wasn't expecting that type of performance. At one point, he strolled to the front of the stage with a microphone. He did play a little bit of harmonica, which caused some excitement among the fans. About a third of the 15 songs he played were popular classics, but the last one, "Blowin' In The Wind," was impossible to recognize. I don't think he played the entire song but just enough of it tacked onto "All Along The Watchtower" to qualify as a separate song.
If you knew ahead of time what to expect, you probably enjoyed the show. If you didn't, you might have been shocked and disappointed. I had a good time and I would see him again.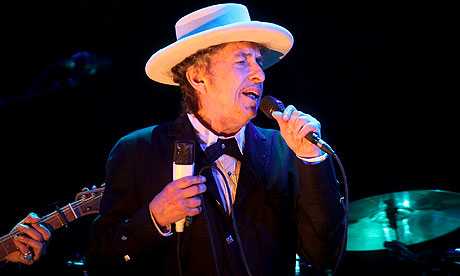 Set list
01 Watching The River Flow (
Bob Dylan's Greatest Hits Vol. II
, 971)
02 It Ain't Me, Babe (
Another Side of Bob Dylan
, 1964)
03 Things Have Changed (from the film
Wonder Boys
,released as a single on May 1, 2000)
04 Tangled Up In Blue (
Blood on the Tracks
, 1975)
05 Tweedle Dee & Tweedle Dum (
Love and Theft
, 2001)
06 This Dream Of You (
Together Through Life
, 2009)
07 Summer Days (
Love and Theft
, 2001)
08 Desolation Row (
Highway 61 Revisited
, 1965)
09 Highway 61 Revisited (
Highway 61 Revisited
, 1965)
10 Scarlet Town (
Tempest
, 2012)
11 Thunder On The Mountain (
Modern Times
, 2006)
12 Ballad Of A Thin Man (
Highway 61 Revisited
, 1965)
13 Like A Rolling Stone (
Highway 61 Revisited
, 1965)
14 All Along The Watchtower (
John Wesley Harding
, 1967)
15 Blowin' In The Wind (
The Freewheelin' Bob Dylan
, 1963)
http://www.bobdylan.com/us/tour/2012-10-05-mts-centre