golfing John Blumberg and Falcon Lake golf courses
I played John Blumberg Golf Course on July 8, and given all the recent rain, it had a lot of standing water on the fairways. After you tee off, you watch you ball splash down.
I drove the ball really well that day. On number 15, the par 5 along the river, I teed up and let it rip, not caring where it landed. For the first time in years, I actually it driver and had the ball land on the fairway on this hole. I aimed a bit left, towards the trees and the ball flew that way before coming back to the fairway and stopping on the right side. My second shot with the three-wood mercifully didn't go into the water, but ended up on the right side again. I flew an 8-iron show to the left of the green, and hit to hit a very gentle shot across the cart path, onto the green. Typically, the pin placement is such that you risk rolling the ball into the water. I gently bumped the ball, but it rolled about 20 feet past the hole. One of the guys in the foursome had the exact same shot and ended up in the same place.
I one-putted a few times and was generally pleased with my performance until the final hole. I hit a long drive into the rough, in a direct line to the green. Usually, this is not a bad place to be since the rough is easy to hit out of and you are closer to the hole than if you played along the dog-legged fairway. Unfortunately, it took my about 6 strokes to get the green, something that I would never have predicted. I ended up with a 9 and show 103. I was so looking forward to breaking 100.
Yesterday, we played Falcon Lake golf course. It's about 90 minutes drive along the TransCanada. Upon arriving you see a sign indicating that it is rated as the number 2 course in Manitoba and # 30 of the top 100 in Canada. Despite a slope rating of 123 from the white tees, this is actually a fairly easy course. The fairways are wide, really wide. You can let it rip with the driver on many holes. All fours of us started off poorly, however. I was 9 over par after two holes, and won the honours with an 8 on number 2, a par five. After a few holes, I was shooting around bogey golf. The back nine, also mostly tree-lined holes, didn't go as well. I shot 50 on the front 9 and 53 on the back. I had a three 7s on the back, which ruined the round. I pared four times, and had seven bogeys. A few times I missed par by one inch. When I play this course again, I really should have 8 or 9 pars and break 100.
Just before number 10 is a little shack where you can buy snacks and cool drinks. While teeing off, one of guys in my foursome left his hot dog sitting on his cart. A raven quickly swooped down and flew off with the bun!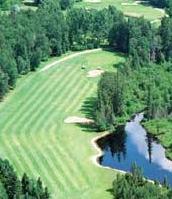 One of the guys in my group was constantly telling us how much he loved his new driver. It's a Tommy Armour model from last year that he pciked up for $100 at Golf Town. It's about 440 cc, he thinks and time after time, he ended up going right to left, and finding the fairway. Last week, he claimes to have hit a drive about 330 yards. He agreed with me that overall, distance is not my problem. My biggest problem is hitting long-irons to the greens in regulation. So, I may not buy a big driver this year as I don't think it will do much for my game at this time.
Falcon Lake cost $38, Blumberg, around $28. Falcon is a friendly course for the average golfer with its wide fairways. It's not as tough as Pinawa, or Minnewasta and, not as beautiful as Buffalo Point, which has a few holes along Lake of the Woods. Falcon Lake doesn't have any lake-side holes.