Ibrahim Ferrer dead at age 78
Singer
Ibrahim Ferrer
with the hugely popular Buena Vista Social Club of vintage Cuban performers, died Saturday, August 6, 2005.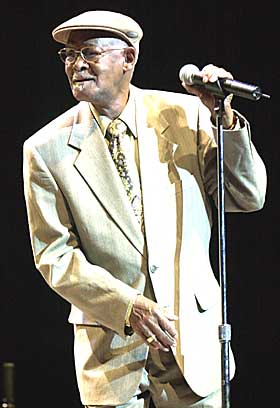 He was born on at a dance in the town of San Luis, near Santiago, Cuba, February 20, 1927. His mother passed away when he was 12, which resulted in him singing on the street to make money. The following year, he formed a duet with one of his cousins, and the two eaked out a living by playing private events.
Ibrahim Ferrer gained global attention when he performed on
Ry Cooder
's "Buena Vista Social Club" that won a Grammy in 1999. He was also among those appearing in the
Wim Wnders
film of the same name.
"

I pinch myself all the time," Ibrahim said at the time. "It is a dream come true. When I was younger I thought I was going to travel the world with my music. The only chance I got was when I came to Europe in 1962. Then there was the missile crisis. I played in Paris and Eastern Europe with Pacho Alonso's orchestra and then I was stuck in Europe. I had to stay until everything settled down again before I could go home. Then nothing happened for thirty-five years. This has given me the will to live. I'm living the dream of my youth in the body of an old man

."
The 78 year-old Ferrer toured Europe this year.
Discography.
2005
Ay Candela
2004
Que Bueno Esta
2003
Buenos Hermanos
(Best Traditional Tropical album at the 4th Latin Grammy Awards)
2002
Tiempos Con Chepin y Su Orquesta
2002
La Colleccion Cubana
2002
Mis Tiempos Con Chepin
2000
Tierra Caliente: Roots of Buena Vista
1999
Buena Vista Social Club Presents: Ibrahim Ferrer
(Best New Artist at the 1st Latin Grammy Awards, 1.5 million copies sold)