DVD - The Rite of Strings - Al DiMeola, Jean-Luc Ponty & Stanley Clarke
DVD -
The Rite of Strings
- Al DiMeola, Jean-Luc Ponty & Stanley Clarke
Running time: 103 minutes
Dolby 5.1 Surround Sound and DTS audio
Full screen
(Eagle Rock Entertainment)
Filmed in 1994,
The Rite of Strings
(featuring Al DiMeola, Jean-Luc Ponty & Stanley Clarke):
Live At Montreaux 1994
gives the viewer a taste of three virtuosos performing material for the first time together as a trio. How would they fare, given the unique dynamics and peculiarities of each performer, in an unrehearsed live session?
During the solo performances of Al DiMeola in the the first track, "Song To John,"
the camera closed in on his hands as if to suggest, "See, this is how easy it is." As if! In an extended solo duel between with Stanely Clarke, each leaned in towards the other, exchanging intense but friendly eye contact. Ponty and DiMeola constantly populated the music with bright, rich and silken notes. Ponty's notes seem almost to sing out on their own, the higher in pitch they climbed. Clarke, head bopping, eyes squinting as if they were squeezing out notes. He plucked his bass frantically, appearing almost as if he was in a trance-like state. This was all in the first track, in which applause erupted as it quieted to a close.
Ponty's solo began with him tapping the strings on his violin with his bow and having it quietly played back over and over again, thanks to the electronics employed. While not revolutionary, it added dimension to his performance and made you wonder, "Is he really playing all that music by himself?" Born in 1942 in Avranches, France, Ponty, came from a family of classical musicians. He began his career as a classical player, often playing jazz late at night in the clubs. The violin initially was a tough sell as a jazz instrument, but eventually, he won them over and released his debut solo album at the age of 22. He released 12 consective albums that reached the top 5 in the Billboard jazz charts in the 70s and established himself as a prime touring artist.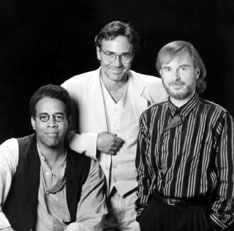 In one one of his quieter solos, DiMeola coaxed out the familiar wailing guitar notes for "Layla." DiMeola sat in the middle, and occaisionally, Clarke and Ponty, both standing would lock eyes and play off of each other.
One of the strongest examples of the group gelling together really well is in the DiMeola-written "Chilean Pipe Song." Everything Ponty plays seems to fit as if it was written specifically with him in mind. It's also very catchy.
In a light moment, after DiMeola introduced Clarke and Ponty, he proceeded to turn his sheet music over and over and upside down, not sure where to begin playing the new song.
In the fusion world, Stanley Clarke (1951)was the first bassist to headline sold out tours and have his albums reach Gold status. He essentially made it just fine to be a bass player, band leader and seller of lots of records and preceded the late, great
Jaco Pastorius
as the first prominent fusion bass player. Clarke was part of the seminal fusion group,
Return To Forever
, along with Chick Corea, Al DiMeola and various drummers. He's also an accomplished composer of film soundstracks, such as
Boys N the Hood, Passenger 57, Higher Learning
, and
Poetic Justice
. His solo performance piece was his famous "School Days" from his 1976 album of the same name. He is the pre-eminent fusion bass player of our time.
Born in 1954, Al DiMeola was lauded early on for his speed, technical skills, and complicated soloing. He became known for his Latin, flamenco and tango-influenced playing. He joined
Return To Forever
as the replacement for
Bill Connors
and helped them to achieve great commercial success. The 1976 album
Romantic Warrior
was a top 40 album. He went solo in 1976 and released a string of landmark fusion albums, such as
Land of the Midnight Sun
and
Elegant Gypsy
. Towards the early part of the 90s, he began to focus more on world-music influenced recordings, such as
World Sinfonia Trio
and
Heart of the Immigrants
.
Keyboardist
Monty Alexander
tickled the ivories for the encore of "Song To John." While he's a fine player, I can honestly say that I have never enjoyed the sound of the electronic piano. It just doesn't as good as a real acoustic piano. Still, Alexander's prescence adds to this number in a positive way. I almost wish the Jamaican-born pianist had been there from the begining.
It's to be expected that you can throw a group of experienced jazz musicians together and have them play as if they had been rehearsing and playing together as a group for years.
Fusion jazz very much flows freely, without the usual tension and counterbalance heard in straight ahead jazz. In many places, the players seem to wander off on their own, creating the lack of a common theme to bind the music together. For this reason, people who generally don't like fusion may find this recording tedious and may not be won over by it. On the other hand, some will appreciate the subtle spontanaiety and the result of putting three players, all dominant on their respective instrument, together to see what transpires.
Far from being a clinical or lifeless concert, the often flawless musicianship left me wanting more and wishing that I was there. Having seen Al DiMeola perform live with his acoustic guitar, in support of the
Heart of the Immigrants
album from 1993, I can tell you how downright thrilling it was to see him. He's one of the few musicians, as a friend noted, who's better live than he is on album.
In 1995, the trio recorded the
Rites of String
album, which peaked at #4 on the US jazz charts.
Set list
01. Song To John
02. Memory Canyon
03. Cancion Sofia
04. Summer country - solo DiMeola
05. School daz - solo Clarke
06. Eulogy to Oscar Romero - solo Ponty
07. Renaissance
08. The Chilean Pipe Song
09. Song to John (featuring Monty Alexander)
10. Indigo